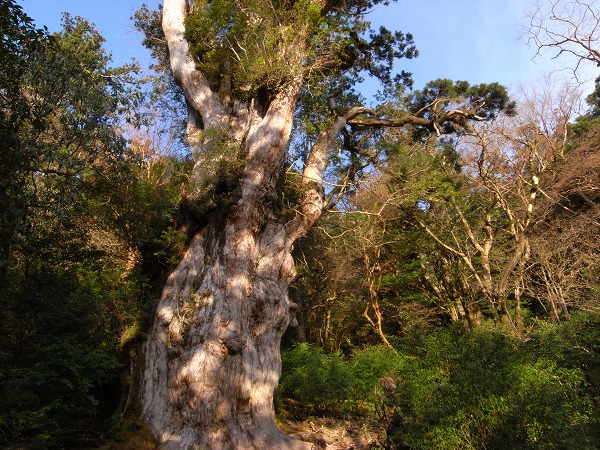 Price:
including

pick-up
a meal set for breakfast & lunch
bus ticket(1,400JPY)
insurance
private tour photos by your guide
| | Price per person |
| --- | --- |
| 1 person | 35,000JPY |
| Group of 2 | 25,000JPY |
| Group of 3 | 22,000JPY |
| Group of 4 | 20,000JPY |
| Group of 5 or more | Please ask. |
Please pay us on site after the tour.
*Cash or Credit Card is accepted.




Challenge Level:
Course Time: 10-11hrs
Walking Distance 22 km
Area Altitude 600m-1,300m
Meet the most famous and long-living cedar tree in the world!

This is the most popular tour among the tourists.
However, the way to the most admired tree is not easy at all,
because it's very long, both in time and distance.

First, we walk on the old rail road that goes along Anbo river.
It's nice to walk through the natural green tunnel, but the surroundings do not change dramatically for 3 hours.
Next, we trek on the trail for 2 hours and this part is tough but entertaining.
You get to see the biggest tree stump (not only see, but step in and check how it is like to be inside the stump!), other characteristic Yakusugi trees, and finally, Jomon-sugi.

Then, we come back on the same route (no choice for one day time).
In total, its course time takes about 10 to 11 hours.

Note also that this popular course gets very crowded on week-end, Japanese holiday, and summer time (from late July to September), even though it's in the middle of mountain.

Yet, if your very wish upon visiting Yakushima is meeting this Tree, we are here with you!
Please be prepared both physically and mentally.