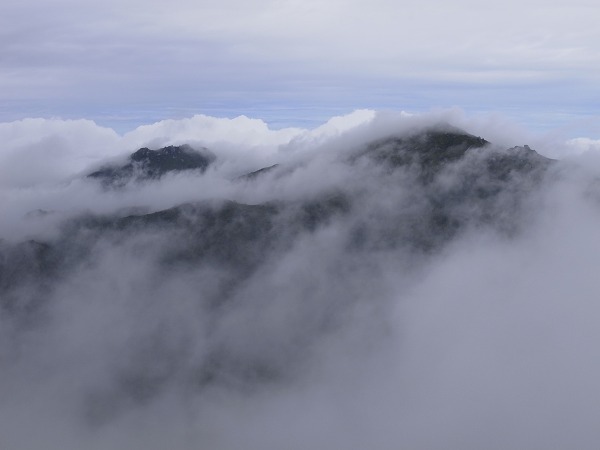 Price:
including

meals during the tour
bus ticket(690JPY)
insurance
private tour photos by your guide
| | Price per person |
| --- | --- |
| 1 person | 77,000JPY |
| Group of 2 | 60,000JPY |
| Group of 3 | 56,000JPY |
| Group of 4 | 52,000JPY |
| Group of 5 or more | Please ask. |
Please pay us on site after the tour.
*Cash or Credit Card is accepted.




Overnight two-day trekking
Challenge Level:
Course Time: 1st day: 9-10hrs / 2nd day: 8-9 hrs
Distance : 1st day: 11.5 km/ 2nd day: 13 km
Area Altitude 1st day : 1,300m-1,936m-1,550m (Shin-Takatsuka hut)
2nd day : 1,550m-600m
A step-by-step-journey across the most mountainous island in Kyushu! What would it be like spending a night in the World Natural Heritage forest!?

The first day, we start from Yodogawa entrance and climb over Mt. Miyanoura, the highest peak of Yakushima.

It is a tough and long trekking course, a vertical journey through the wide range of forest types, beyond the tree line, into the unpredictable sky of the high altitude (1,936m).
Unpredictable but if lucky, a 360° panoramic view from the top of the island is more than rewarding!

Note that beyond the tree line, where no tree is taller than ourselves, nothing protects you from sunshine or raindrops falling from the sky.
If you care, sunscreen is helpful, and rainwear is indispensable.

Then, we spend a night in Shin-Takatsuka hut.
Note that it is just a free hut with a roof and walls in which we have to share the space with other campers to sleep in sleeping bag. Some visitors complain that the hut and its toilet are not sanitary, but please remember it's not a hotel.
Or, if it's not raining, you can choose to sleep in a tent that our guide carries up in case.

The second day, we walk down toward Arakawa entrance (exit).
On the way, we get to see the most famous and long-living tree, Jomon-sugi, and the biggest tree stump (not only see, but step in and check how it is like to be inside the stump!), then walk on the old rail road to Arakawa.

Usually, the tour finishes around 3 pm.