Enjoy the two most popular destinations in peaceful pace and space!
Jomon-sugi and Shiratani-Unsuikyo are the two most popular destinations among Japanese tourists, thus, often times, crowded with one-day hikers.
So, if you are willing and capable to camp in the mountain, this is your choice to enjoy those famous courses in peaceful pace and space.
For this camping tour, from your two scheduled days, we choose the day with a better wether condition for Shiratani-Unsuikyo.
There is a point on Shiratani route where we have to cross a creek, and this creek could overflow if it rains so much.
Therefore, if the first day is better, we start from Shiratani-Unsuikyo and walk down to Arakawa exit on the second day.
If the second is better, start from Arakawa entrance and visit Shiratani on the next day.
We will discuss and determine which way to begin with as the tour date comes close, according to the weather condition then. (Or, if thunderstorm is forecasted for both dates, we should simply do other tours instead of camping.)
In either case, we head to Jomon-sugi on the first day, and spend a night in Takatsuka hut.
Note that it is just a free hut simply with a roof and walls, but no caretaker, in which we have to share the space with other campers to sleep in sleeping bag. Some visitors complain that the hut and its toilet are not sanitary, but please remember it's not a hotel.
Or, if it's not raining, you can choose to sleep in a tent that our guide carries up in case.
The second day, we wake up before the dawn and see if Jomon-sugi meets the first sunlight of the day. Even if cloudy or raining, it can be an exquisite moment to admire the legendary tree in the blue hour amidst the Word Heritage forest.
For more introduction about Jomon-sugi or Shiratani-Unsuikyo, please also check those pages;
Jomon-sugi:
https://yaku-geo.com/guide/jomon-sugi.html
Shiratni-Unsuikyo:
https://yaku-geo.com/guide/shiratani.html

Requirements:
-trekking shoes
-rainwear (a set of jacket and pants, no matter what the weather cast says)
-backpack (at least 40 liters in size to carry what you want/need to take with you)
-headlamp
-sleeping bag
-rolled mattress for sleeping bag
-trekking poles (optional)
-gaiters (optional in case of raining or snowing)
Above listed gears are available in Yakushima to rent > link (about rental gear)
-hat and sunglasses (optional)
-gloves
-down jacket (it gets cold in the mountain after the sunset)
-soft-shell or fleece (in wintertime)
-thermal underwear (in wintertime)
-snack (or any portable food to charge your energy)
-self-confidence (both physical and mental)
-tolerance (both physical and mental, staying a night in an uncivilized area)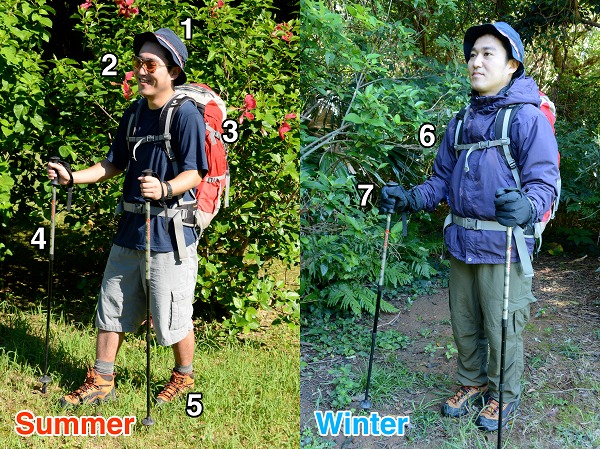 Cap/Hat
Sunglasses
Backpack (Rain Cover)
Trekking Poles
Trekking Shoes
Hard-shell Jacket
+ (Soft-shell Jacket or Fleece)
Gloves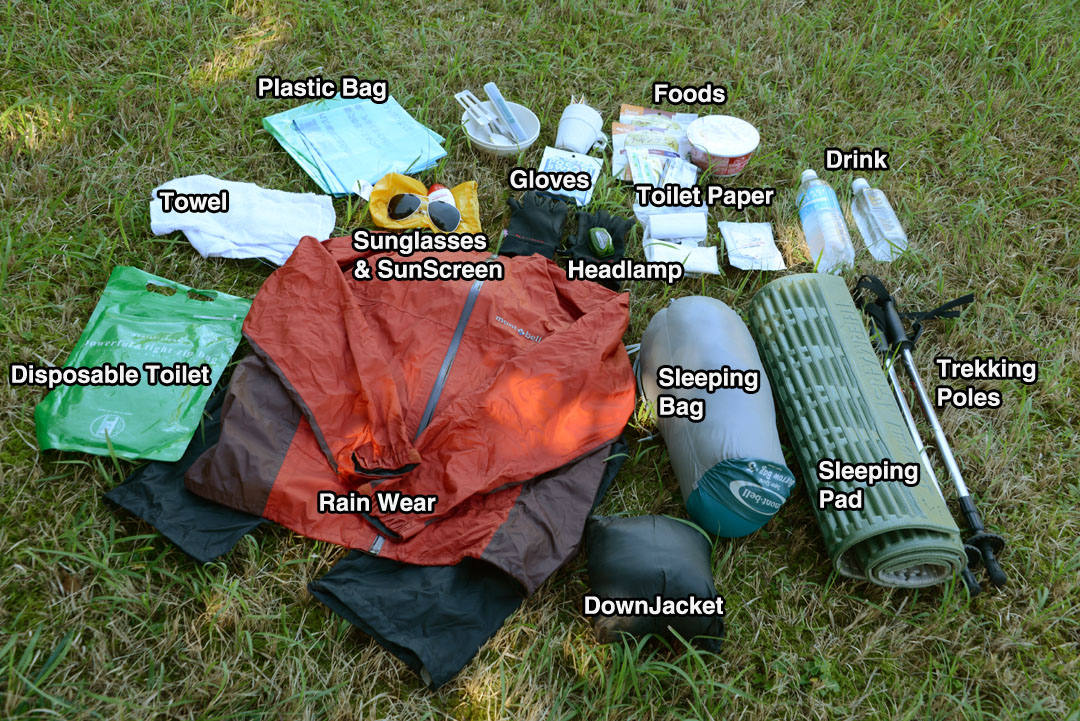 What in (parenthesis) do not appear in the picture.
Please refer to "Requirements" for what you need or not.